Dr. Olsson closed his practice of Psychiatry and Psychotherapy as of September 1, 2011. Therefore, Dr. Olsson is no longer accepting new patient referrals. Olsson will continue to post timely articles on this site and list new books he has completed and or published.

Dr. Olsson's latest publication is now available........................

Walk the Fine Line Between Crazy and Brilliant in

This Tour de Force Novel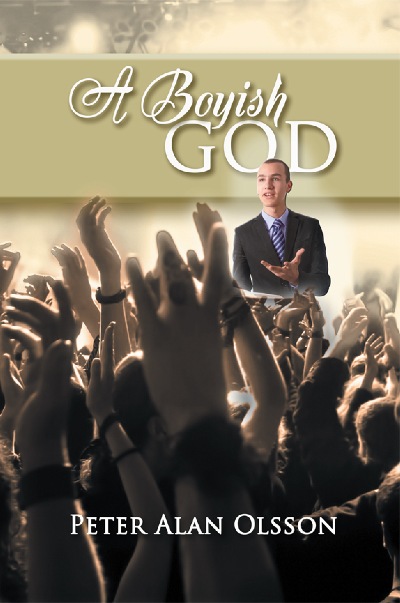 A Boyish God is a troubling novel with deep insights. According to author Peter Alan Olsson, "I was jolted to my core when I learned that a college friend's son died at the Rev. Jim Jones' side at Jonestown. Two books and over 30 years later, I am still searching for answers … especially about terror prevention."



This fascinating yet terrifying book probes into the psyche of a schoolboy who deeply needs therapy. On the playground of Saint Thomas Moore School in Houston, Sister Agnes hears young Will Powers' fiery funeral sermon for a dead bird. At the insistence of his teachers, Will reluctantly stops his explosive eulogy. Will's parents have apparently turned their back on their son and won't return the school's calls.



The school psychologist turns for help to a trusted psychiatrist friend, who is able to delve into Will's perspective and what is driving him. But can this troubled boy be helped? The novel is disturbing, but deeply necessary. Perhaps the Rev. Jim Jones at one time was also considered A Boyish God.




A BOYISH GOD (ISBN: 978-1-62212-616-3) is now available for $15 and can be ordered through the publisher's website:

http://sbpra.com/PeterAlanOlsson or at www.amazon.com or www.barnesandnoble.com

"Understanding the past in emotional depth, can provide freedom from its grasp in the future."

Dont miss Dr. Olsson in the History Channels presentation of: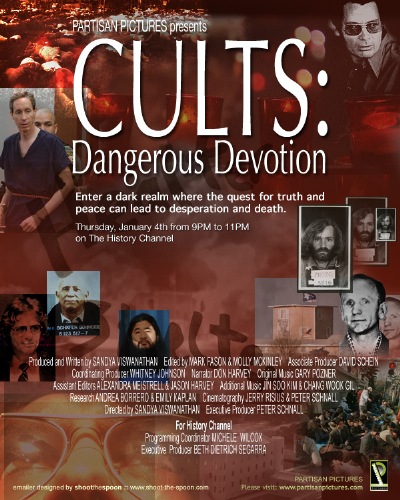 Click on the link above to check the History Channel web-site for the current show times.

BOOK ANNOUNCEMENT---Dr. Olsson's 2007 book is currently available on Amazon.com thru this link http://www.amazon.com/Cult-Osama-Psychoanalyzing-Magnetism-Muslim/dp/0275999890/ref=pd_bbs_sr_1?ie=UTF8&s=books&qid=1197337915&sr=1-1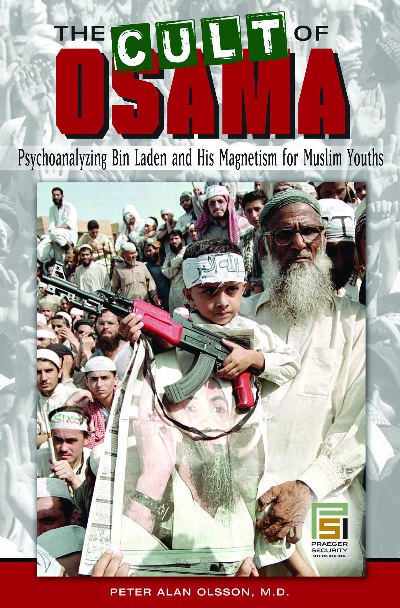 CULT OF OSAMA: Psychoanalyzing Bin Laden and His Magnetism for Muslim Youth.

Publisher: Praeger of The Greenwood Publishing Group

In CULT OF OSAMA, Dr. Peter Olsson approaches Osama bin Laden et. al. from an applied psychoanalytic and psychodynamic perspective. He applies psychological and social psychological observations from his 25-year study of destructive cults and cult leaders to try to understand the mind of Osama bin Laden. There are many journalistic, political, military and intelligence books about bin Laden and Al Qaeda. But, Olsson's study offers a purely psychological, psychobiographical, and social psychological perspective on Osama. Dr. Olsson is a psychiatrist and psychoanalyst and the author of Malignant Pied Pipers of Our Time, a 2005 study of destructive cults and cult leaders.
Osama's psychobiography resonates with the psychological wounds and narcissistic injuries that reverberate among many Arab and Muslim youths in their search for meaning, identity, and heroes. Osama and AL QAEDA's Malignant Pied Piper appeal stems from this peculiar but profoundly important synchrony of shared trauma and pain between Osama/AlQaeda and Arab/Muslim youths.

CULT OF OSAMA is available through bookstores, Amazon.com and B&N

Check Dr.Olsson out on Youtube http://www.youtube.com/watch?v=LXUuQnkkWrM


A psychological Study of Destructive Cult Leaders from Rev. Jim Jones to Osama bin Laden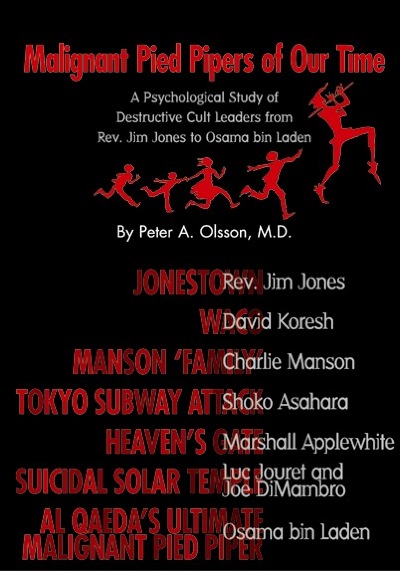 By Peter A. Olsson, M.D.



Brief Description of the Book:


In this book, psychiatrist and psychoanalyst Dr. Peter A. Olsson examines the phenomena of destructive and apocalyptic cults, revealing the psychological roots of both leaders and cult members. Dr. Olsson calls the leaders — Rev. Jim Jones, David Koresh, Shoko Ashahara, Osama bin Laden, and others — Malignant Pied Pipers for the way they lure followers to their deaths. He uses the tenets of psychology to analyze the lives of the cult leaders and the source of their powerful attraction to vulnerable converts. Most important in this age of global terrorism, Dr. Olsson offers his vision for the book:

"It is my hope that this in-depth psychological study of destructive cult leaders of the last 30 years — Malignant Pied Pipers — illuminates the roots of their malevolence and their power, a condition that has invariably led to murder, mass suicide, the destruction of families, and to the terrorist acts that dominate our headlines. By understanding them and their appeal, we increase our chance of averting future disasters."


The timeliness of the topic is evident on the front page of the daily newspaper, which explodes with descriptions of the latest terrorist victims, cult suicides, or bombings by religious fanatics. Throughout the world, people are starving for information on ways they can protect themselves, their children, and their friends from falling prey to extremists.


Malignant Pied Pipers of Our time can be purchased online at

Publish America and enter code #1-4137-7668-X , Amazon.com , and at

Also available by Dr. Olsson:

"Poems Behind a Psychiatrists Couch"

Dr. Olsson's book of poems is available thru amazon.com.

Or 1-800-834-1803 (Red Lead Publishing)

Dr. Olsson's first novel called A BOYISH GOD: Thwarting Evil Powers is available at Amazon and at http//sbpra.com/PeterAlanOlsson. Find a brief synopsis and Foreword below:

Is twelve year old Will Powers going to be the next Rev. Jim Jones or Anton Lavey? The playground at Saint Thomas Moore School in Houston has become a terrifying place. Sister Agnes has tried to comfort several of the most tearful of her students. At the forceful insistence of his teachers Will Powers reluctantly stopped his fiery funeral sermon for the dead bird. Will's teacher thinks his parents and particularly his father Jed Powers seem very troubled. The parents won't return Sister Agnes's phone calls about similar events involving Will. The school psychologist Sister Andrea Albright calls on a trusted psychiatrist friend Tom Tolman for help. The ensuing therapy adventures are seen from Will's perspective and the would-be adults around him. Of course, there are very few real adults, anywhere. Will Power's helpers reveal many perspectives on this topic including Sister Andrea finding genuine love and romance.

This novella which is part memoir about my love of my life's work doing psychotherapy.The story is about the possibilities and profound difficulties in changing destinies. Unlike many melodramatic Hollywood movie scenarios, such changes occurring in psychotherapy are deceptively quiet…muted. Psychotherapy often involves pain, but the more severe and ominous pain, destruction, and even deaths prevented go unheralded…unnoticed, because like a suicide prevented, they never exist. Any genuine change in psychotherapy is always a story about two or more lives. People receiving psychotherapy, psychotherapists, counselors, and those in the helping professions will identify with this story.

Olsson's book, IF I KNEW THEN WHAT I KNOW NOW: Advice to Young Psychiatrists and Psychotherapists has been accepted by InkSpotter Press and will be available through the InkSpotter website.